Skip to Content
Technology Solutions You Can Utilize Now, to Make Remote Working Easier During COVID-19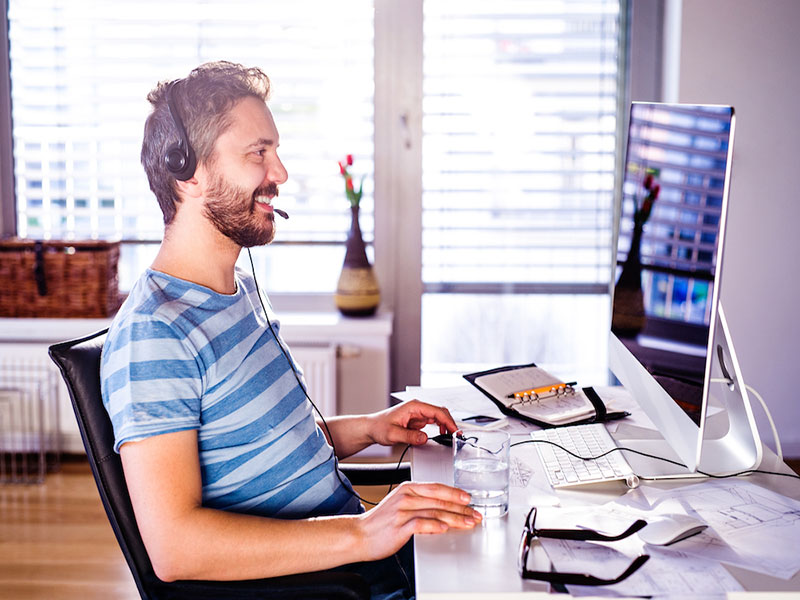 If you find yourself researching options or asking questions like: "How do I set up remote work stations quickly?" or "How can I help my employees telecommute?" you are not alone. Businesses all over the world are scrambling to get remote working options set up, in an effort to ensure the business can continue as efficiently as possible. Setting up employees to work remotely, or telecommute during the COVID-19 pandemic can seem overwhelming given the unknowns, but we're here to help. Whether you already have a system in place, and just need to scale it, or you need a brand new telecom system to get employees up and running from home, Sunrise Solutions of Maryland offers solutions for businesses big and small in Maryland, DC, and Virginia. From VoIP to video conferencing, there are many options that can make the transition easier.
Below you will find options/recommendations for the following remote access options to aid in telecommuting:
Legacy(Outdated) Phone Systems
Avaya Phone Systems
E-MetroTel UCx Phone Systems
Businesses without existing VoIP, SIP, Cloud, Video Conferencing, or Remote Solutions
If You Already Have a Legacy Phone System Set-Up, and Need to Go Remote
For current Legacy Phone System users, remote working can be a little cumbersome, but still "doable." Most business telephone systems have a feature known as "Call Forward." You simply activate the feature on your phone and enter the number you'd like your calls forwarded to. If your phone system requires you to dial a "9" or another prefix for an outside line, be sure to include it in the forwarded number. If your phone system has an "After Hours" greeting, you can activate this or change it to be on all day. You may need to change the recording as well.
If your phone system is very old or very basic and the "Call Forward" or "After Hours" greeting is not available, you can contact your phone service provider (Verizon, Comcast, Windstream, etc.) and have all of your calls Remote Call Forwarded (RCF) to another phone number. With this option, ALL calls will go to the one phone number. If you have a PRI with Direct Inward Dial (DID) Numbers, even the DIDs will only be sent to one phone number. While less than ideal, it is an option.
Once calls are forwarded to you, how do you return calls? You simply call folks back on whatever device you had the calls forwarded to. The downside of this is the Caller ID you send out will be your personal number, not your business number. If you are OK with this, GREAT!
If not, a quick and easy option would be to utilize a FREE Google Voice Number. It's pretty simple. Go online to Google. Search "Google Voice" and sign up for a free number. It's easiest to do this from a computer or tablet. You can set up a free voicemail account with your own personal greeting. Have your calls forwarded as outlined above to THIS Google Number. From here, you can go online and download the Google Voice App. When you receive a call, the call will be sent to you via the app. If you don't answer, a voicemail will be left on Google Voice and emailed to your Gmail account. If you make calls OUT of the Google Voice App, the caller ID will show the Google Voice number, not your personal number. When you resume normal operations, you can shut down the Google Voice Number.
For Current Avaya Customers: This Cloud Solution Is a Great Option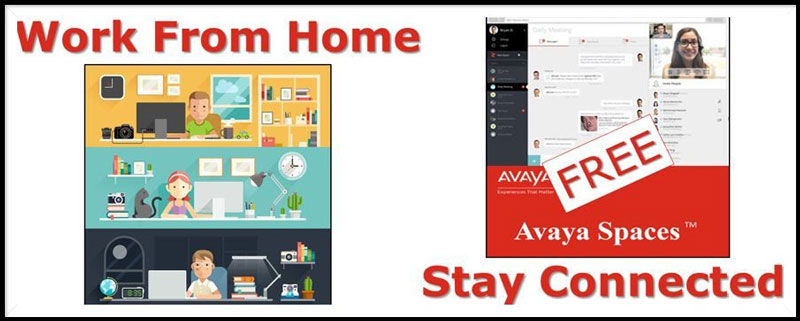 Avaya Spaces is a cloud-based team collaboration and meeting tool with messaging, audio and video conferencing file sharing, and more in an easy-to-use application that you can access from anywhere. Use it on your laptop at work, your tablet at home, or your phone on the go.
For teams that need an effective way to enable communications, manage tasks, and be more productive without being overwhelmed by email, Avaya Spaces provides the right balance of features and simplicity!
*Avaya Spaces Is Being Offered For Free To Current Avaya Customers
Whether it's a pandemic, a natural catastrophe, ransomware, or simply wanting to work more efficiently, remote working is becoming a real necessity. Now is a great time to start thinking about the NEXT time. A lot of companies have Disaster Recovery Plans – what to do when a big event occurs. Not as many companies have a Business Continuity Plan – How to keep running during that big event.
For E-MetroTel Customers – A Great Remote Working Solution
E-MetroTel Infinity One Included in UCX 6.0!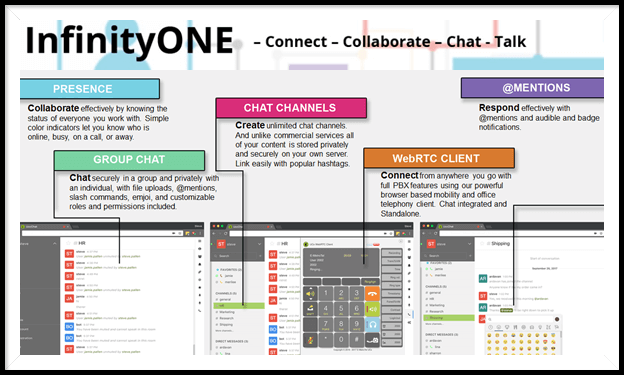 Infinity One WebRTC Mobility – Provides mobility and in-office communication. Stay connected with FULL-FEATURED telephony from anywhere.
Infinity One Chat – Provides an enterprise-level collaboration messaging solution with presence and a feature set comparable to other popular commercial offerings. All on your own private server. This allows you to keep your chat conversations secure and private.
Infinity One not currently available on UCx Mini Platforms. Contact us for alternate options.
Other Popular Remote Work Solutions
VoIP Phone Systems
Cloud-Based Solutions
Video Conferencing
Still not sure exactly what your business needs to quickly get your workers set up for remote working and telecommuting? Contact our team of experts today, we are ready to help!
Does Your Business Have Its Best Communication Solution?