Skip to Content
5 Reasons To Use Hosted VoIP Telephone Systems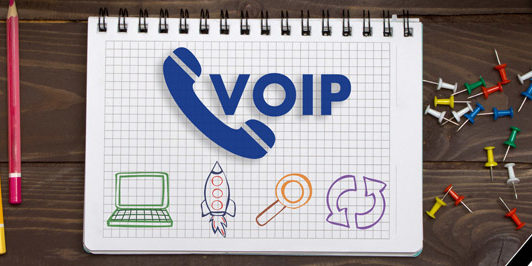 What are the benefits?
Thinking about upgrading your business phone system? Not sure where to start? We bet you've heard of Hosted VoIP Telephone Systems – so what are they?
A Hosted VoIP Telephone system is a telephone system which is located somewhere outside of your business. Typically this system is 'Hosted' at a providers' data center as opposed to being 'On-Site' in your office. You communicate with the system and the outside world using a signaling known as Voice Over Internet Protocol, or VoIP. These are typically large feature rich systems, where you simply 'rent' space on them. There are some advantages to this – let's take a look at them below:
Cost Effective
Unlimited Maintenance and Support Included
Scalability
Mobility
Video Conferencing 
1. Cost Effective
Hosted VoIP may save businesses money on their telecom expenses. If businesses are still paying for a PRI or multiple rollover lines, it will more than likely reduce their phone expenses. Hosted VoIP can provide businesses the features of enterprise systems for a fraction of the cost. With Hosted VoIP, businesses avoid the expensive investments of purchasing upgrades and maintaining expensive technology. 
2. Unlimited Maintenance and Support Included
Unlimited maintenance and support is typically included on most Hosted VoIP platforms. Unlimited maintenance and support allows customers to get help and support whenever they want! User and administrative portals also make it easy for customers to sign-in themselves to make simple phone system changes. You won't have to worry about paying for upgrades or updates on Hosted VoIP, everything is automatic and happens behind the scenes!
3. Scalability
No matter if you have 1 or 1000 employees, Hosted VoIP makes it easy to start small while still allowing room for further growth and expansion. Hosted VoIP platforms are specifically designed to be easily scalable and flexible in case your company goes through sudden growth spurts and need to hire more workers. In this case, adding users is simple and can be configured within minutes. With Hosted VoIP, you can start with as few or as many users as you want and scale up and down during busy seasons. No matter what type of business you run or what type of phone solution you need, Hosted VoIP is flexible enough to accommodate you now and into the future.
4. Mobility
In the older days, you would have to physically sit next to your phone so that in case it rang, you would be right next to it to pick it up. Not anymore! You won't be tied down to a single physical phone line. With most Hosted VoIP systems, there is an accompanying mobile app that allows you to connect to your phone system from anywhere, as long as you have an internet connection. Employees can choose to work remotely and make calls from their cell phone, computer, or tablet, all while customers still think they are calling from the office. Nobody has to know which device you're calling from and more importantly – never miss a call!
5. Video Conferencing
Most Hosted VoIP platforms also have video conferencing platforms built in, allowing business to enter the 21st century. Don't worry about buying expensive video phones – it can all be done from a computer, cell phone, or tablet. While some businesses may never need video, there are many businesses who only have video meetings all day. With these Hosted VoIP systems, users can set up and configure their own video conferences and send invites directly through their computer, cell phone, or tablet, fully utilizing their telephone system.  
Does Your Business Have Its Best Communication Solution?