Skip to Content
Understanding Voice Over Internet Protocol
Voice over Internet Protocol (VoIP), is a type of signaling which can allow the use of an internet connection rather than conventional landlines to place and receive calls. 
The majority of individuals view VoIP as an alternative to their local phone provider. You can call anybody if you have an internet connection without using traditional local phone service or actual copper cables. High-speed internet and a VoIP service provider are all you need to make calls. 
VoIP services range in their ability to connect you with anybody who has a phone number, including local, long distance, mobile, and international numbers. Some VoIP services could limit your ability to connect with other users of the same service. Additionally, although some VoIP services may only be used with a computer or specialized VoIP phone, others let you use a regular phone that is linked to a VoIP adaptor.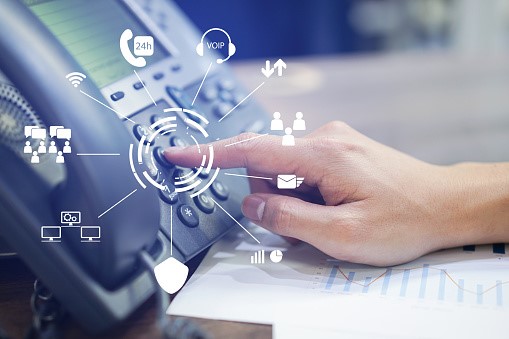 How Does It Work?
VoIP services turn your voice (which is an analog signal) into an IP Signal for Internet transmission. The signal is changed into a standard telephone signal before it reaches the destination if you are dialing a conventional phone. VoIP enables you to place calls from a computer, a dedicated VoIP phone, or a regular phone that is linked to an adaptor. Additionally, wireless "hot spots" in public spaces like parks, airports, and cafés let you access the internet and maybe utilize VoIP services wirelessly. 
Your voice is converted to a digital file using voice over internet protocol (VoIP), which is then compressed and sent over the internet. The VoIP service provider places the call, just like your internet service provider. 
The communication is exchanged through tiny data packets during phone calls. These data packets may travel the world through the internet in under a second. These packets move between your phone and a VoIP provider for internet telephony. 
An easier, step-by-step plan may look like this: 
In your local area network, your phone is connected to a switch or router (LAN).

 

Your IP phone instructs your VoIP service provider to call the other party when you dial a phone number.

 

From your IP phone, your VoIP service establishes the call and exchanges data packets.

 

These digital impulses are transformed back into audible sound by your VoIP phone.

 
What Do I Need for VoIP in My Business?
It is necessary to have a broadband (high-speed) Internet connection (Cable/Fiber). It is necessary to use a computer, adapter, or VoIP/SIP phone. While some VoIP services can only be used with a computer or specialized VoIP phone, others let you use a regular phone that is linked to a VoIP adaptor (ATA: Analog Telephone Adapter). You'll need some software and a cheap microphone if you use your PC. VoIP/SIP phones work nearly the same as regular phones and plug straight into your broadband connection. When using a ATA, you can dial normally. 
Advantages of VoIP
There are many advantages of installing VoIP in your business. They include: 
Cost-Effective
Numerous customers and companies have reduced their phone costs by over 60% and seen significant cost savings, by utilizing VoIP. 
High-Quality
The call quality may be noticeably improved. With a high-speed Internet connection High Definition (HD) audio can be achieved. This is typically clearer than many traditional phone lines which can deteriorate with age.   
World-Wide Calling Cost Reduction
International long-distance rates are far more competitively-priced than landlines. If you communicate with customers or partners out of the US, you will absolutely want to invest in VoIP. 
Remote Team Integration
Depending on what type of telephone system you have, remote workers with a strong internet connection can operate anywhere in the world, yet maintain the appearance of being in the same office.  
Contact Us Today
Sunrise Solutions encourages all of its customers to use our VoIP/SIP solutions to communicate clearly and dependably on all of their devices in and around the Baltimore/Washington Metropolitan Area.  
The Sunrise 360 Cloud Solution is a platform for unified communications and teamwork in the cloud. Users of this platform may share material and ideas through a single system while operating their businesses more productively and with mobile alternatives. Our 360/Elevate technology easily combines all of your tools—including PCs, desktop phones, and mobile phones—into a single, manageable solution that is tailored to the demands and work preferences of your employees. Whether you're working from home or in a remote location, this solution is applicable to all of your equipment. Contact us now!
Does Your Business Have Its Best Communication Solution?