Skip to Content
Difference Between SIP and VoIP
SIP & VoIP Services in DC, Virginia, and Maryland
The alternatives that businesses have for business phone systems have increased because of technological improvements. To cut expenses, businesses are increasingly converting from antiquated solutions like Primary Rate Interface (PRI) lines to more sophisticated solutions like Voice over Internet Protocol (VoIP). 
For some firms, switching to internet-based phones is the best option, but VoIP alone isn't a reliable enough solution for most enterprises today. A Unified Communications strategy, which covers voice, text, conferencing, mobility, and other types of communication, can be more advantageous for many firms.  
At Sunrise Solutions, we offer both SIP and VoIP services for your business. We'll break down the main differences between the two services and help you decide which is right for you. When you're ready to chat with our team, give us a call.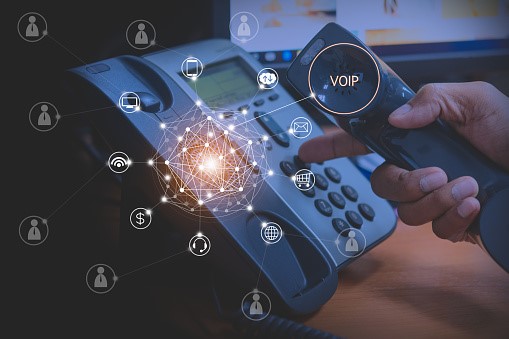 What's The Difference?
VoIP, or voice over internet protocol, is a technology that enables you to place and receive calls online. On the other hand, a lot of VoIP calls are made possible via the SIP protocol. It makes it possible for devices to communicate quickly and effectively. You may send and receive voice data to and from your computer or mobile device using both SIP and VoIP. 
Although both SIP and VoIP are used for data transfer over the internet, they are not the same. 
SIP may be conceptualized as one of the fundamental technologies that enable VoIP conversations. SIP is an essential component of a VoIP setup. 
SIP
Information may be sent between two or more sites using the SIP protocol. The open-source communications protocol supports phone calls as well as multimedia sessions like video conferencing, file sharing, and instant messaging. This is why so many of the apps we use in our daily lives utilize it as their preferred protocol. 
SIP also makes it possible to connect to a standard phone network, whether landline or a mobile device, using a function called SIP trunking. This is advantageous since it enables you to contact any phone number, even one that is not connected to the internet. It promotes a more adaptable and user-friendly phone system when integrated into a VoIP system. 
VoIP
Voice calls may be placed and received online, thanks to VoIP. VoIP is only one minor component of an app's communication Unified Communications functions, which often also include text messaging and video chat capabilities in the contemporary world. SIP is often used in VoIP; however, it's not always the case. 
With VoIP, you may place or receive calls using a computer, a mobile device, or even a dedicated VoIP desk phone. VoIP is a broad term that refers to any technological element that enables voice communications over the internet. 
Why Sunrise Solutions?
Small and medium enterprises can get large corporate communication services from Sunrise Solutions. Since our company's inception in 2001, our goal has been to give clients in the Baltimore/Washington Metropolitan region access to the resources they need to communicate more successfully. 
Sunrise Solutions has tested telephone, cabling, data networking, dial tone, and sound masking products that will meet your business's needs both now and, in the future, regardless of whether your industry is healthcare, accounting, biotech, or government contracting, or whether you have nine phones or 900. 
Discover more about the Sunrise Solutions team, or get in touch with our team. Our professionals, from our technical team to the operations team, are looking forward to getting in touch with you and sharing more information about how we can help. 
Your Business Communication Experts
We have years of experience in VoIP and SIP solutions to bring the very best to your team. 
You can obtain phone service supplied over your Internet connection rather than from your local phone provider if you have a reasonably good Internet connection. Since VoIP service providers typically provide lower prices than traditional phone companies, some consumers utilize VoIP in addition to their regular phone service. 
A popular protocol for managing multimedia communication sessions, such as audio and video conversations, is called Session Initiation Protocol (SIP). SIP can control call formation, call termination, and other crucial aspects. It also specifies the messages that are delivered between endpoints. SIP can be utilized to send data between two endpoints or multiple.
Does Your Business Have Its Best Communication Solution?